Vallejo Rotary
Thursdays
12:15pm
Zio Fraedo's
23 Harbor Way
Vallejo, CA
What is Rotary?

We're having fun

District 5160

Club Service

Community Service

International Service

Rotary International

Scholarship Application

Rotary Links

Member Login

Click the button below to follow Vallejo Rotary on facebook: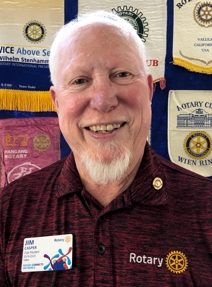 Message from President Jim Casper

I grew up in an Army family which means our family moved around a lot. While I enjoyed the experience of new places I was never in a place long enough to develop a sense of community. It wasn't until I moved to Vallejo and had lived here for a while that I realized that I was a part of the Vallejo community and had a choice. I could be just a good citizen of my community or I could be a good citizen and be an active participant in helping my community.
My business partner at the time was active with the Martinez Rotary and encouraged me to join the Vallejo Rotary. At my first meeting I realized that Rotary was the organization I could join to make a difference in the community that I was a part of. It was been a distinct privilege to be a member and it will be a real honor to serve as president for the 2019/2020 year.


ROTARY CLUB OF VALLEJO

2019-2020 OFFICERS

President
Jim Casper

President-Elect
Vijay Patel

Immediate Past President
Shawna Gilroy

Secretary
Peter Friesen

Treasurer
Kathe Chandler

Sgt. at Arms
Kevin Rahill

Board of Directors
Ann C. Grove
Constance Howard
Denise Martin
Jesse Payne
Luis Romero
Gary F. Salvadori
John Whitney