Vallejo Rotary
Thursdays
12:15pm
Zio Fraedo's
23 Harbor Way
Vallejo, CA
What is Rotary?

We're having fun

District 5160

Club Service

Community Service

International Service

Rotary International

Scholarship Application

Rotary Links

Member Login

Click the button below to follow Vallejo Rotary on facebook:


Our 2020 Golf Tournament
Has been cancelled due to the Covid-19 Lock down.
For over 20 years the Vallejo Rotary Club has worked on a literacy program distributing age-appropriate dictionaries to every third grade student in Vallejo; all Public, Private, and Charter Schools. Our ability to do this every year relies on the generosity of our community and participation in our annual Golfing for Dictionaries tournament. The funding for the dictionaries is almost entirely based on the success of our annual tournament, a fixture in Vallejo for over thirty years.

This year with the extraordinary and unpredictable circumstances we have made the difficult decision that our annual golf tournament will need to be cancelled, we feel there was no other choice. Like many other non-profits we are now trying to come up with ways to save a program that is so needed in our community. We view this as an opportunity to include the community and businesses in our quest to raise the $14,000 needed to continue this amazing program.

How can you help?

If you have already donated for the golf tournament in the form of sponsorships, tee signs, pin flags, or for players; you can allow us to keep those funds as a straight donation. As a reminder we are a 501c(3) and your donations are 100% tax deductible.

Another option, if you have not already committed monetarily to the tournament, is to make a donation for all or part of what you would normally spend for that day's activity. We have included the information for the levels of sponsorship and player costs for your reference.

You can help Vallejo Rotary continue our core mission of youth and education with any size of donation. We all know how important our youth are to our future and the future of our community. As a thank you for all donations you will be recognized on our social media, e- newsletter, website, and any other form of recognition we can give you.

We are all in this together and Vallejo Rotary appreciates all of the community and business support that we have received over the years. We look forward to accomplishing this fundraising goal together.

Thank You,

Jim Casper, President 2019-2020
Pete Friesen, Committee Chair
We love handing out dictionaries!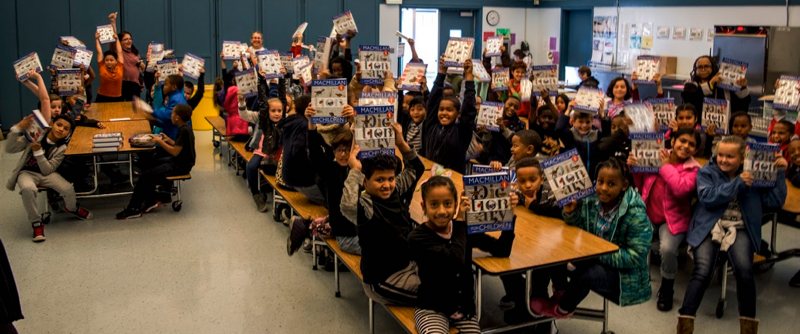 Our biggest day of the year at Vallejo Rotary is the day we hand a dictionary to each and every 3rd Grader in Vallejo. Thursday, November 16th was the day this year. On this day, Vallejo Rotarians took time off from work and their busy schedules to visit each of the schools in Vallejo and personally hand a dictionary to each 3rd Grader.

These dictionaries are theirs to keep. They get to write their names in them and everything. Dictionaries may seem out-dated in this day and age of the internet, but they are part of the teaching curriculum in 3rd grade in California. Many families do not have the resources to buy a dictionary for their 3rd Grader to keep at home. So it is with great pride that we provide them with this essential tool for literacy.


On April 14th, 2016, Vallejo Rotary brought the "Every 15 Minutes" program to Vallejo. (More information)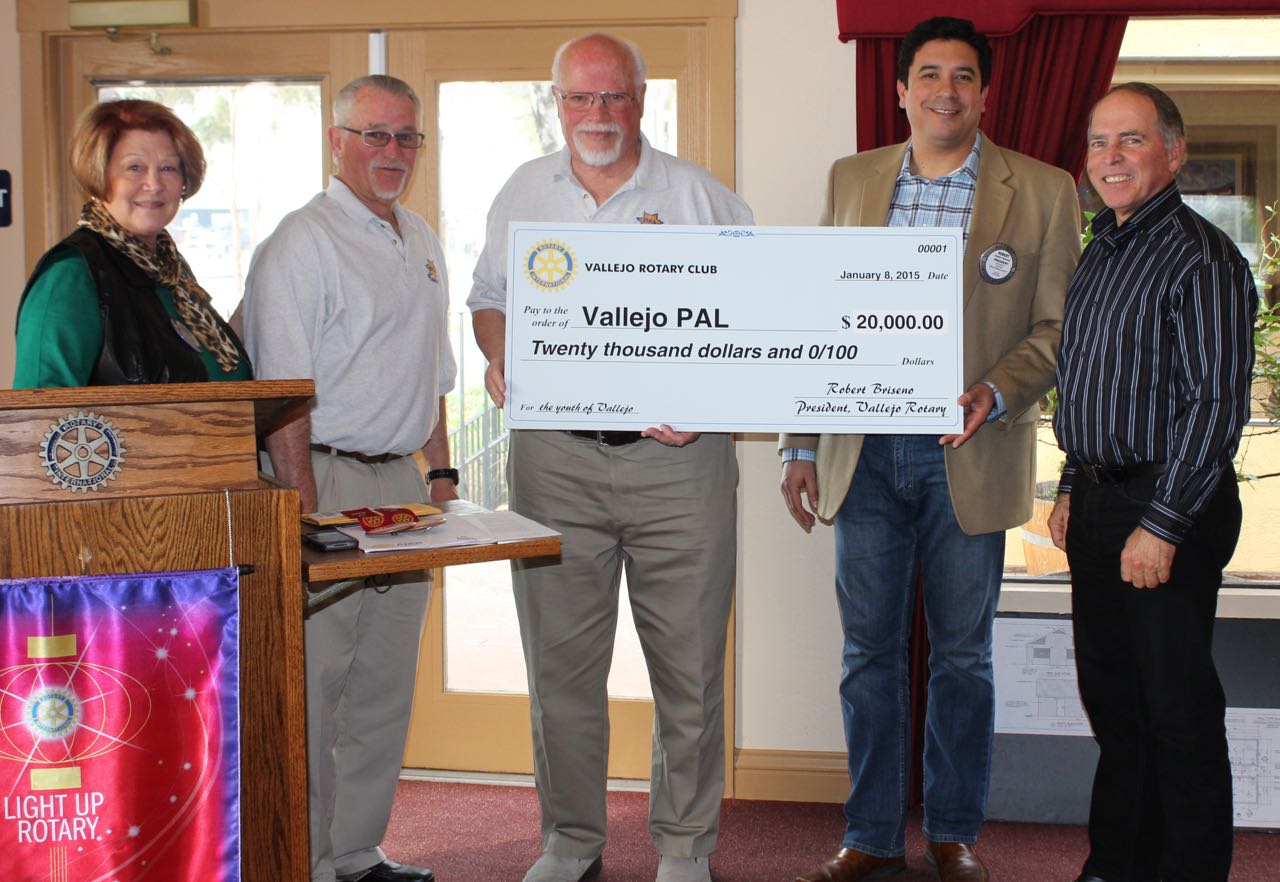 (from left to right: Connie Howard (Vallejo Rotary Club Secretary), Jim Lyon (PAL Board President), Mike Kollar (PAL Executive Director), Robert Briseño (Vallejo Rotary President), Ron Richardson (PAL Commissioner of Youth Sports).

On Thursday, January 9th, 2015, the Vallejo Rotary Club donated $20,000 to the Police Athletic League. This money is earmarked to pay for real restrooms and concessions facilities at the PAL field.

Ron Richardson (PAL Commissioner of Youth Sports, and project manager for this improvement), Mike Kollar (PAL Executive Director), and Jim Lyon (PAL Board President) were on hand to explain where the new restrooms and concessions facilities would go and at what stage the project currently is. The PAL field is at the corner of Star and Wallace right next to Franklin Middle School.

Ron hopes to have the restroom/concession facilities part of the project finished by May of this year.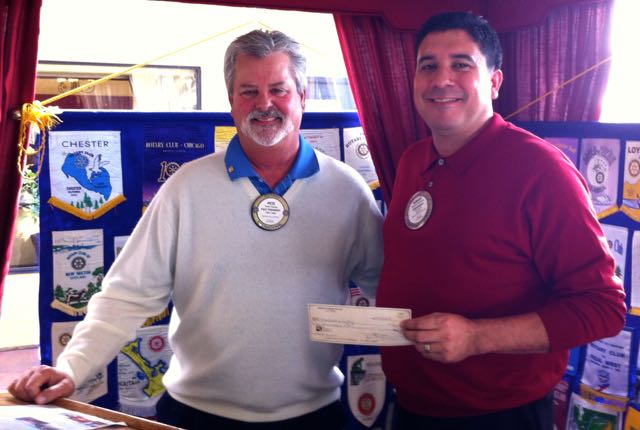 We just donated $1,000 to Leadership Vallejo! It's great to be a part of such a great organization.



Any member in good standing wishing to propose a new member should read the information regarding the process by following this link.

Please visit the community service area to view information about the Vallejo Rotary Club Education programs here.

If you think you might be interested in becoming a Rotarian consider our four way test and if you feel it applies to the way you do business then click here and learn more about our organization.

The Four Way Test of things we think say or do

Is it the TRUTH?

Is it FAIR to all concerned?

Will it build GOODWILL and BETTER FRIENDSHIP?

Will it be BENEFICIAL to all concerned?
ROTARY CLUB OF VALLEJO

2020-2021 OFFICERS

President
Vijay Patel

President-Elect
Constance Howard

Immediate Past President
Jim Casper

Secretary
Kevin Rahill

Treasurer
Jeanne Kilkenny-Turk

Sgt. at Arms
Anthony Shannon

Board of Directors
Bill Burrage
Peter Friesen
John T. Harrington
Anthony J. Intintoli, Jr.
Connie L. Klimisch
Denise Martin
Gary F. Salvadori